SB Server Support Multi Audios
Better To switch Video server with vpn, if does not play. opera vpn recommend.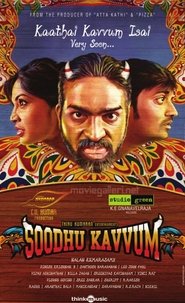 Soodhu Kavvum (Tamil)
Dass specialises in small time kidnapping and has his own set of rules. The primary and most important among them is not to get involved with influential people. Three jobless youngsters meet Dass and the four take up an assignment for a hefty sum that throws away this primary rule and end up being chased by a dreaded policeman.
Views: 424
Genre: Comedy, Crime, Thriller
Director: Nalan Kumarasamy
Actors: Arul Dass, Ashok Selvan, Bobby Simha, Karunakaran, M. S. Bhaskar, Radha Ravi, Ramesh Thilak, Sanchita Shetty, Vijay Sethupathi, Yoge Jappie
Country: India
Duration: 138
Quality: HD
Release: 2013