SB Server Support Multi Audios
Better To switch Video server with vpn, if does not play. opera vpn recommend.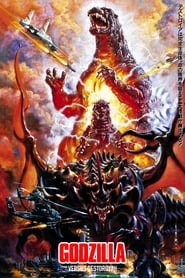 Godzilla vs. Destoroyah (1995)
A burning Godzilla, on the verge of meltdown, emerges to lay siege to Hong Kong. At the same time horrifying new organisms are discovered in Japan. These crustacean-like beings are seemingly born of the Oxygen Destroyer, the weapon that killed the original Godzilla.
Views: 519
Genre: Action, Horror, Science Fiction
Director: Takao Okawara
Actors: Akihiko Hirata, Akira Nakao, Kenpachirō Satsuma, Megumi Odaka, Ryo Hariya, Saburo Shinoda, Sayaka Osawa, Takuro Tatsumi, Yasufumi Hayashi, Yôko Ishino
Country: Japan
Duration: 103
Quality: BR
Release: 1995