SB Server Support Multi Audios
Better To switch Video server with vpn, if does not play. opera vpn recommend.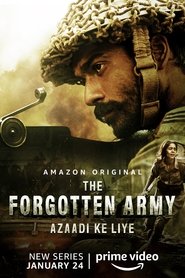 The Forgotten Army – Azaadi ke liye
The dynamic story of Lt. Sodhi and his daredevil band of men and women who fought a heroic battle for the independence of India as part of the Indian National Army which was forged out of British defeat in Singapore during WWII and led by the charismatic, indomitable Indian leader Netaji Subhash Chandra Bose.
Views: 696
Genre: Action & Adventure, Drama
Director: Heeraz Marfatia, Kabir Khan
Actors: Akhil Iyer, Amala Akkineni, Junichi Kajioka, M. K. Raina, Paloma Monnappa, Rohit Chaudhary, Sam Mohan, Sunny Kaushal, Tj Bhanu, Tom Ashley
Studio: Kabir Khan Films